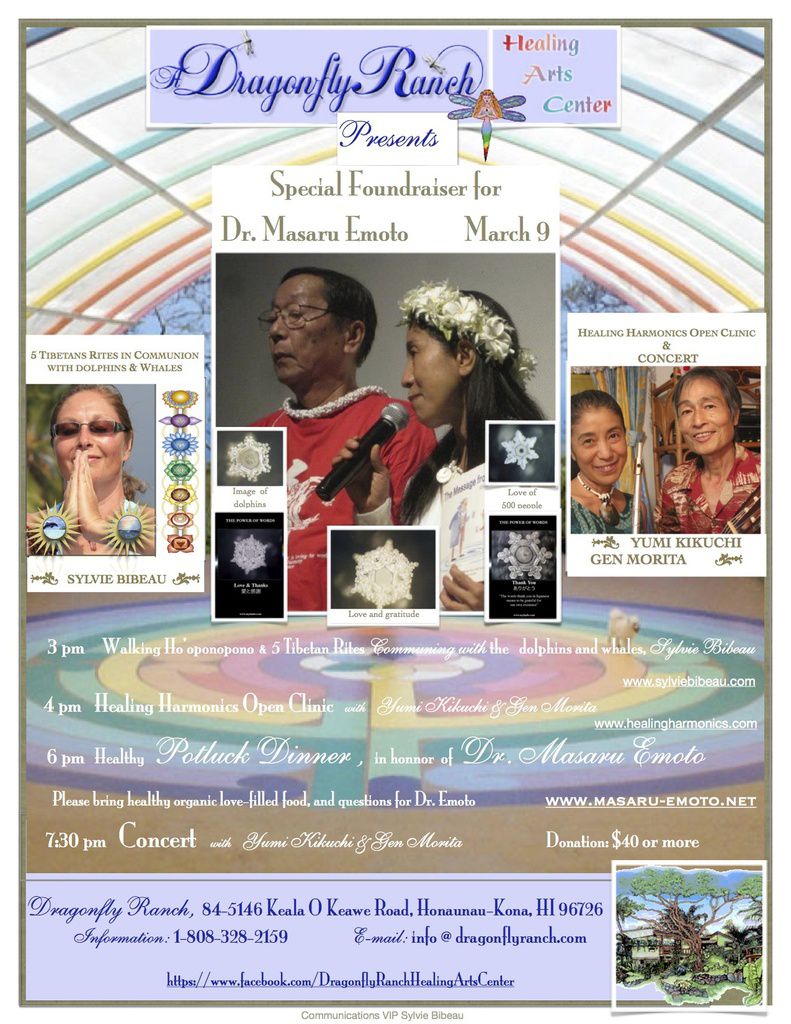 Aloha!...
It is a pleasure for me to join the initiative of Dr. Masaru Emoto. I invite you to walk with me on the wonderful Rainbow labyrinth of the Dragonfly Ranch in a meditative state of gratitude and forgiveness. We will continue with the practice of the 5 Tibetans Rites in the peace, love and gratitude, in connection with the high vibrations of Big Island, the volcano, the ocean, the dolphins and the whales.
You can participate for free at the Dragonfly Ranch today, the march 9 from 3pm to 4pm.
After, this activity, you could have the great opportunity to participate at the fundraiser who will begin at 4pm...Please read more explanations after my message.
Mahalo to transfer the invitation at yours friends...
Have a great day and at the pleasure to see you,
With peace, love and gratitude,
Communications VIP Sylvie Bibeau
Hawaii: 1-808-938-4891
Those who attended the Dr. Emoto talk a
t the Aloha know that this man is dedicated, sincere, purehearted, and Funny! Those of you who wish to contribute t his cause are invited for more!
Dr. Masura Emoto is coming to the Dragonfly Ranch Sat. March 9. We are hosting a fundraiser for his Peace Project, making sure that all children of the world get free children's books about Messages from Water.
My dear friends, Yumi and Gen Morita, brought Dr. Emoto here from Japan where he has spoken to full houses. Everyone was spellbound and impressed with his lectures.
The Morita's have been doing monthly Open Clinic here at the Dragonfly for several months. They plan to provide more demonstration and teaching about the Soto Method of Japanese healing from 4 to 6, prior to our Healthy Pot Luck dinner with Dr. Emoto. Suggested contribution of $40 (or more) per person for this question/answer dinner with Dr. Emoto will go toward his intention to create 650 million copies of his children's book.
After dinner, when Yumi finishes interpreting for Dr. Emoto, Yumi and Gen are planning to perform music for us. Gen, a well known guitarist/singer in Japan, will be joined by Yumi who also sings, as well as plays flute and violin.
The Moritas, refugees from Fukashima are looking to find hosts for the children and pregnant women of the Fukashima disaster. (Too bad the Japanese government didn't listen to Yumi's warning of it being "a disaster waiting to happen" if they built the power plant on that fault zone!)
At 3 pm, prior to the Open Clinic, our French Canadian reporter/presenter/networker, Sylvie Bibeau, will lead the Five Tibetan Rites in our beautiful Illuminarium. Guests are welcome to learn from Sylvie and can walk the labyrinth as well, in a meditative state of gratitude and forgiveness.
Also on Sunday, March 10 (March 11 in Japan) at 7pm Hawaii time, Dr. Emoto will be meeting with Kumu Keala Ching to do a Ho'oponopono Blessing of the ocean—exactly at the two year anniversary of the Fukashima earthquake. People are invited to gather at the Banyan tree near the King Kamehameha Kona Beach Hotel, before walking to the bay.
Wherever you are, you can join in this worldwide effort to heal the polluted sea, using the power of our united minds to reverse the damage caused by this major disaster. Dr. Emoto has asked that we apologize to the water, saying, "I am sorry. Please forgive me. Thank you. I love you." We can visualize the water becoming pure. Everyone is invited and there is no charge for this event.
Feel free to contact Yum and Gen,
www.healingHarmonics.com
, 334-1646 (cell 756-8948)
or me at 238-1906.
Barbara
www.dragonflyranch.com